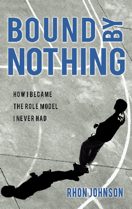 BOUND BY NOTHING is entertaining and heart felt. Once you start reading, you will not want to put it down. Rhon Johnson shares with us his awesome journey that will encourage us as we venture down the paths of our own lives.
Purchase Your Copy Today!
About The Author: Rhon Johnson
An award winning athlete in high school and college, Rhon Johnson has devoted his professional life to helping children and adolescents from disadvantaged families. Johnson is an author and teacher with more than ten years of experience directing sports ministry programs in his hometown of Little Rock, Arkansas.
Check out my interview with Alyson Courtney on KATV Channel 7's Daybreak Show
Real love is not an emotion, it is a word of action. I know  when we say that we have fallen in love, we are talking about how we feel. Well, what happens when we wake up one day and we don't feel that way? Love is about a choice that we make regardless of how we feel. It's all good when our emotions line up with the decision we've made to be with someone. But the Agape love takes no account of what the other does or even how it makes them feel, but only on doing what real love does. Keep this in mind also, Love is not a door mat!!
Rhon Johnson
.
Scripture Reference:
I Corinthians 13:4-8(a)
Love suffers long, and is kind; love does not envy, love vaunts not itself, is not puffed up, does not behave itself unseemly, seeks not its own, is not provoked, takes no account of evil; rejoices not in unrighteousness, but rejoices with the truth; bares all things, believes all things, hopes for all things, endures all things.  Love never fails:
.
.
.
Copyright and Digiprove Certified by Rhon Johnson Certificate id: P691895