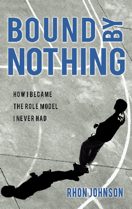 BOUND BY NOTHING is entertaining and heart felt. Once you start reading, you will not want to put it down. Rhon Johnson shares with us his awesome journey that will encourage us as we venture down the paths of our own lives.
Purchase Your Copy Today!
About The Author: Rhon Johnson
An award winning athlete in high school and college, Rhon Johnson has devoted his professional life to helping children and adolescents from disadvantaged families. Johnson is an author and teacher with more than ten years of experience directing sports ministry programs in his hometown of Little Rock, Arkansas.
Check out my interview with Alyson Courtney on KATV Channel 7's Daybreak Show
Haste is like compound interest. The more you do it the more it multiplies into more haste which in turns increases your chance to make life altering mistakes. Anything going faster than it is capable of going is a weapon of destruction. When you feel pressured to rush, step back for a second and count up the cost. Then proceed at a regular pace.
Rhon Johnson
.
Power Quote:
Impulse manages all things badly
Latin Proverb
.
.
.
Copyright and Digiprove Certified by Rhon Johnson Certificate id: P694101