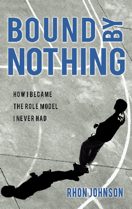 BOUND BY NOTHING is entertaining and heart felt. Once you start reading, you will not want to put it down. Rhon Johnson shares with us his awesome journey that will encourage us as we venture down the paths of our own lives.
Purchase Your Copy Today!
About The Author: Rhon Johnson
An award winning athlete in high school and college, Rhon Johnson has devoted his professional life to helping children and adolescents from disadvantaged families. Johnson is an author and teacher with more than ten years of experience directing sports ministry programs in his hometown of Little Rock, Arkansas.
Check out my interview with Alyson Courtney on KATV Channel 7's Daybreak Show
What's your mind set?  That is a very popular question in many circles of life. But, let's keep it really simple today. Whatever our minds are set on is exactly what's going to show up in our lives. If it is set on the negative side of things, then that's going to be story of our life. We have to purposely set our mind on what we want everyday in order to have those things to show up in our life. So, set your mind on what its is supposed to be set on and leave the rest alone. Don't allow thoughts to stay that would attempt to cause you to start thinking in other ways, other than what you determined to set your thoughts on. Now enjoy you life as you watch one thing after another you have been hoping for come to past.
Rhon Johnson
.
Our lives are following after our most dominant thoughts
Rhon Johnson (1966 –     )
.
.
.
Copyright and Digiprove Certified by Rhon Johnson Certificate id: P701276