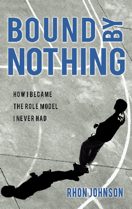 BOUND BY NOTHING is entertaining and heart felt. Once you start reading, you will not want to put it down. Rhon Johnson shares with us his awesome journey that will encourage us as we venture down the paths of our own lives.
Purchase Your Copy Today!
About The Author: Rhon Johnson
An award winning athlete in high school and college, Rhon Johnson has devoted his professional life to helping children and adolescents from disadvantaged families. Johnson is an author and teacher with more than ten years of experience directing sports ministry programs in his hometown of Little Rock, Arkansas.
Check out my interview with Alyson Courtney on KATV Channel 7's Daybreak Show
When Rhon Johnson was abandoned by his father at age seven, his life was forever altered by the loss of a male role model. Though he had his mother and grandmother for love and support, he struggled with a lack of confidence and an inability to feel comfortable within himself. By his teen years, his life was heading in the wrong direction– not only did he nearly lose his mother to an abusive boyfriend, but he also began experimenting with drugs. But that all began to change when Johnson discovered his talents on the basketball court, a revelation that not only restored his sense of self-worth, but also helped him realize that his life had a purpose and that the world wasn't out to get him.
In Bound By Nothing, Rhon Johnson shares his journey to find his true identity, and explains the negative thinking patterns that can be established in childhood, and the part athletics play in overcoming them.
129 Responses to "About The Book"