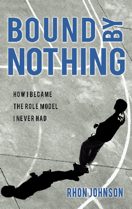 BOUND BY NOTHING is entertaining and heart felt. Once you start reading, you will not want to put it down. Rhon Johnson shares with us his awesome journey that will encourage us as we venture down the paths of our own lives.
Purchase Your Copy Today!
About The Author: Rhon Johnson
An award winning athlete in high school and college, Rhon Johnson has devoted his professional life to helping children and adolescents from disadvantaged families. Johnson is an author and teacher with more than ten years of experience directing sports ministry programs in his hometown of Little Rock, Arkansas.
Check out my interview with Alyson Courtney on KATV Channel 7's Daybreak Show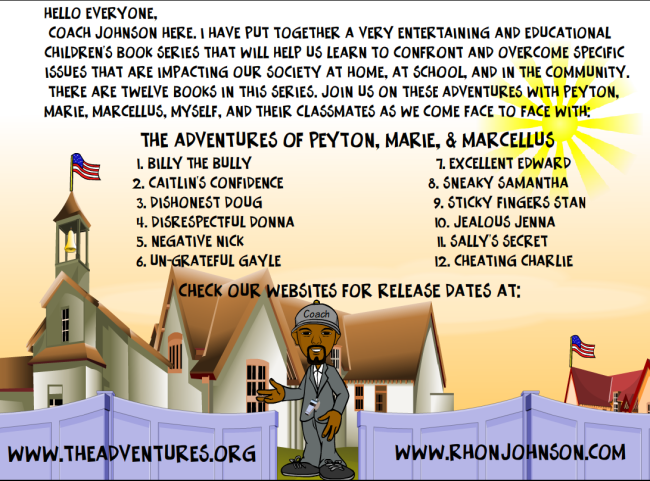 The Campaign Goal
The initial campaign goal for "The Adventures Of" is to impact every elementary school aged child in America, by networking with public and private learning institution, as well as other children's programs to help create a positive experience for every child within their educational environment. 
The Adventure Campaign Product
With "The Adventure Series", everyone involved will share the benefits. Not only the student, but his/her family,  teachers, and  peers. The title of each of the twelve books identifies a specific issue that is confronted within our children's learning environment everyday. Things like bullying, dishonesty, and disrespect to name a few. Not only are these books educational in very specific ways, but they are extremely entertaining. Still, the most intriguing part of these adventures is that, the children get to meet and interact with a real life role model. Not a made up character, but a role model who is the exact same personality in real life, as he is in the books. When Coach Johnson makes his visit to your school, he will appear just as he is in the book, as he reads and interacts with his audience. The educational organizations that invest in this campaign will see an immediate impact in the progress of their students:
         Decreased Acts of Bullying    
    Increased  Attendance
      Better Class Participation
     Better Peer Relationships
    Appropriate Free-Play
      Higher Self Esteem
 – Let's Go On These

Adventures

Together –
Contact Us Today, And Set An Appointment To Discuss Bringing "The Adventure Campaign" To Your School.
theadventuresof@rhonjohnson.com
Rhon Johnson
(501) 766-8709