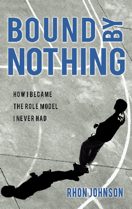 BOUND BY NOTHING is entertaining and heart felt. Once you start reading, you will not want to put it down. Rhon Johnson shares with us his awesome journey that will encourage us as we venture down the paths of our own lives.
Purchase Your Copy Today!
About The Author: Rhon Johnson
An award winning athlete in high school and college, Rhon Johnson has devoted his professional life to helping children and adolescents from disadvantaged families. Johnson is an author and teacher with more than ten years of experience directing sports ministry programs in his hometown of Little Rock, Arkansas.
Check out my interview with Alyson Courtney on KATV Channel 7's Daybreak Show
Do you have a microwave mentality about your life? Have you grown tired of waiting for something meaningful to come to past in your life? Many of us abort the mission just days before we get our break-through. You are extremely valuable. You represent the most valuable asset in the universe. Nothing about you should ever be rushed. Keep moving forward everyday, here a little, there a little, and it will come to pass. 
Rhon Johnson
.
Scripture Reference
Romans 8:25
But if we hope for that which we do not see, then do it with patience; wait for it.
Do you wear your emotions on your sleeve? Do you over analyze everything that happens as a plot against us or what we are trying to accomplish in life. Everyday I find myself trying to paint a clear picture of the bottom line. Doesn't matter if it's in business, marriage, or our other relationships. The bottom line is  where our focus should be. If what is said or done to us does not have the power to effect our bottom line then why are we allowing these thing to have the time of day in our minds.
 Rhon Johnson
Power Statement:
When we take things  personal, we lose our ability to keep the main thing the main thing, and that is the bottom line.
.
Rhon Johnson (1966 –      ) 
If I were to give you the definition of life based on the the dictionary, here is what we would find: Life – the exeistence of an individual human being or animal. Yep, there it is, and it doesn't get any simlpier than that. But today we want to swim on the deep end. We have what is called "'the purpose of life" and then we have "your purpose in life" . Yes, I know they sound the same, but they are as differnt as night and day. Let me explain, "you purpose in life" is what you believe you have been put here on this earth to do. This is what you grow up to do in the community to include you what you do to make a living. " The purpose of life" is altogether differnt. It is how you use what you do in life to grow yourself and share it with others. So we have what we do, (our purpose in life) and we have how we use what we do in life to grow ourselves and share with others, ( the purpose of life). Now here is the question. Are we using what we do everyday as a tool and opportunity to grow and share that growth with others?
Rhon Johnson
.
Power Quote:
"The purose of life is not to win. The purpose of life is to grow and share."
Rabbi Harold Kushner
 Digiproved Certified by Rhon Johnson  (Copyright id – P476568)
To me it is a funny sounding word, but it is one of the main reason we miss out on significant opportunities that come our way. When we don't get an education and then it's time for job opportunities we may find that we will miss out because we did not prepare. This can be applied to any area of life. The key is to use our imagination along with the information we already have about what we know is coming, then figure out what we need to do so that when what is coming arrives, we are prepared to roll with it.
Rhon Johnson
.
Power Statement:
When we don't prepare, it is usually a sign that we are afraid to fail.
Rhon Johnson
(1966 –      )
.
.
.
Copyright and Digiprove Certified by Rhon Johnson (Certificate id#: P548980)
It almost sounds scary to hear this word mentioned in reference to ourselves. I believe that giving of ourselves to others is a master key to success. Keep in mind that when we are setting our goals, they should always involve others. Our potential is released when we involve ourselves in helping others. Besides, where would the world be if no one served.
.
Rhon Johnson
.
Power Quote:
A life spent serving others, is a life well spent.
Rhon Johnson (1966 –      )
I simple definition of the word as it relates to us is this. What we could become. Do you have a picture in your head of what you could become based on the God given tools you have in life. Many of us see it but we are often unwilling to put in the work to develop ourselves into what we see. It is a sad thing to see people at the end of their lives and they have not achieve anything. This happens at every level of life. Students, athletes, businessmen, and so on have all fallen short of what they could have potentially done or become. Lets not allow this to happen to us. Lets do something everyday that moves us closer to who and what we want to be and do.
.
Rhon Johnson
.
Power Quote:
"Today's preparation determines tomorrows achievement."